Show and Tell. Even after all these years, I still remember the combination of excitement and nervousness of Show and Tell time in elementary school. Excited for the day it was my turn, but then nervous about the reaction of my classmates. (Yes, even then I was considering my audience.) Would the other kids think I shared something unique and interesting? Or would they be bored out of their minds for 5 minutes? So much pressure I put on myself. I was reminded of those feelings I had as I recently prepared for a professional Show and Tell.
In February, I was given the opportunity to present at the EARCOS Weekend Workshop, Transforming Learning with the iPad  organized by our Director of Technology for Learning, John Burns and held at our school, Shekou International School. Of course I was excited to be asked to be part of the event, but then the age-old nervousness kicked in. I had done plenty of presentations for teachers before, but it had always been in my own school with my own staff and on topics I had plenty of experience with. I had only had 1:1 iPads in my grade 6 class a few months and teachers from all around South East Asia would be attending the Weekend Workshop. I settled on presenting about how I used iPad apps and resources for informal assessment. I was inspired by a workshop called "Making Thinking Visible" presented by Andrew McCarthy at Learning 2.012 in Beijing. In his workshop, Mr. McCarthy referenced the book Making Thinking Visible: How to Promote Engagement, Understanding, and Independence for All Learners by Ron Ritchhart, Mark Church, and Karin Morrison of Harvard's Project Zero. I decided to focus on one of the core questions of both the presentation and the book:
  "How can we document student thinking so that both teachers
and students are better able to understand and develop it?"
I had found having 1:1 iPads in the classroom had given me a new arsenal of ways to document student learning and assessing student learning was applicable to all grade levels and content areas. My digital Show and Tell was shaping up. I worked on my presentation, refined it, got feedback and made more adjustments. The day of my sessions (I did three in one day) came and nervousness went away as educators entered my session and my Show and Tell began and evolved into Sharing and Learning.
The entire two-day workshop was a great success with lots of sharing and learning and  we received lots of positive feedback. I was thrilled to be a part of it.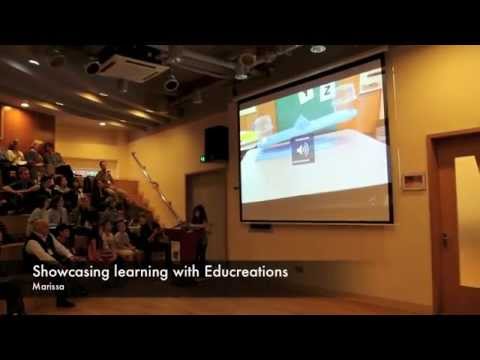 This experience also made me realize how incredibly lucky I am to be at a school so committed to eLearning with a staff so eager to learn and share. Everyday is Show and Tell!
Please check out what's happening with eLearning at our school!! 
elearning.sis.org.cn
on Twitter: #sisrocks
So my question to you is….
 What would you bring to a Technology for Learning Show and Tell?